Shopping Basket
Your Basket is Empty
There was an error with PayPal
Click here to try again
Thank you for your business!
You should receive an order confirmation from Paypal shortly.
Exit Shopping Basket
Production & Performing Arts Total Look Styling Services . Mobile & Online Tuition

HAIR . MAKE-UP . SPECIAL FX . FACE/BODY ART . COSTUME/ACCESSORIES
SET DESIGN . SHOWROOM/WINDOW DISPLAY . INTERIORS
| | |
| --- | --- |
| Posted on 9 June, 2020 at 19:45 | |
As an open-minded make-up 'artist' I find it strange that the majority of face charts represent only one type of face shape/features/skin tone: the female Caucasian. I have therefore produced a diverse range of Exclusively Themed 'race' face charts as a truer representation of the myriad of indigenous peoples around the globe. They also include unisex/transgender features. In my eyes, the 'unhelpful' terms 'white' and 'black' actually 'divide' and do not give a clear picture of millions of blended differences/mixed races. Most people will find that their DNA contains a blend of several, more 'colourful' origins.
The anthropological and geographical terms for ethnic peoples are given as: Caucasoid (mainly pale pink/beige European Aryans through to olive/light brown skinned Mediterranean Semitic and Hamitic Near Middle Eastern people), Mongoloids (beige to yellow toned Far East Asians, Native Alaskans/Canadians and olive to brown skinned Central Asians, Native First Nations of The Americas), dark brown skinned Negroids (ethnic groups originally from Sub-Saharan Africa, Oceania, South Asia and Southeast Asia), Khoisanoids or Capoids (indigenous South Africans) and dark brown skinned ethnic Pacific races (Australian aborigines, Polynesians, Melanesians, Micronesians, Indonesians). These descriptions are purely a guideline, as there are exceptions such as those with unusual skin conditions (e.g. albinism, vitiligo).
List of Anthropological Terms for different Global Ethnic Races:
Caucasoid:
Aryans
Semitic
Hamitic
Negroid:
African Negro
Khoikhoi
Melanesian
Negrito
Australoid
Mongoloid:
North Mongol
Chinese & Indochinese
Korean & Japanese
Tibetan & Burmese
Malay
Polynesian
Maori
Micronesian
Eskimo & Inuit
American Indian
I am giving away copies of my unique diversity face chart templates to my www.facebook.com/exclusivelythemed MUA followers... so do get in touch if you're interested in using some... Laura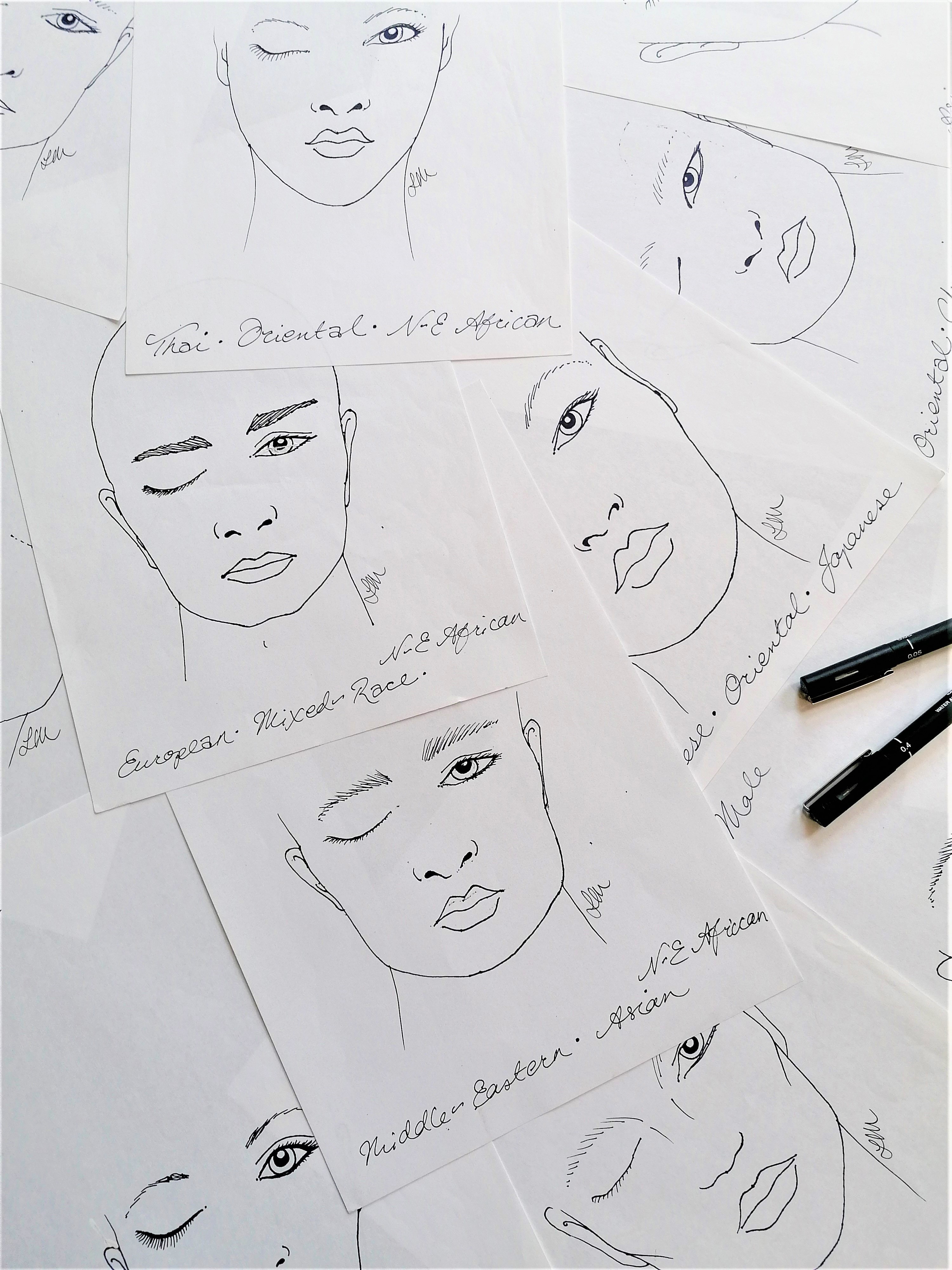 Categories: None
/